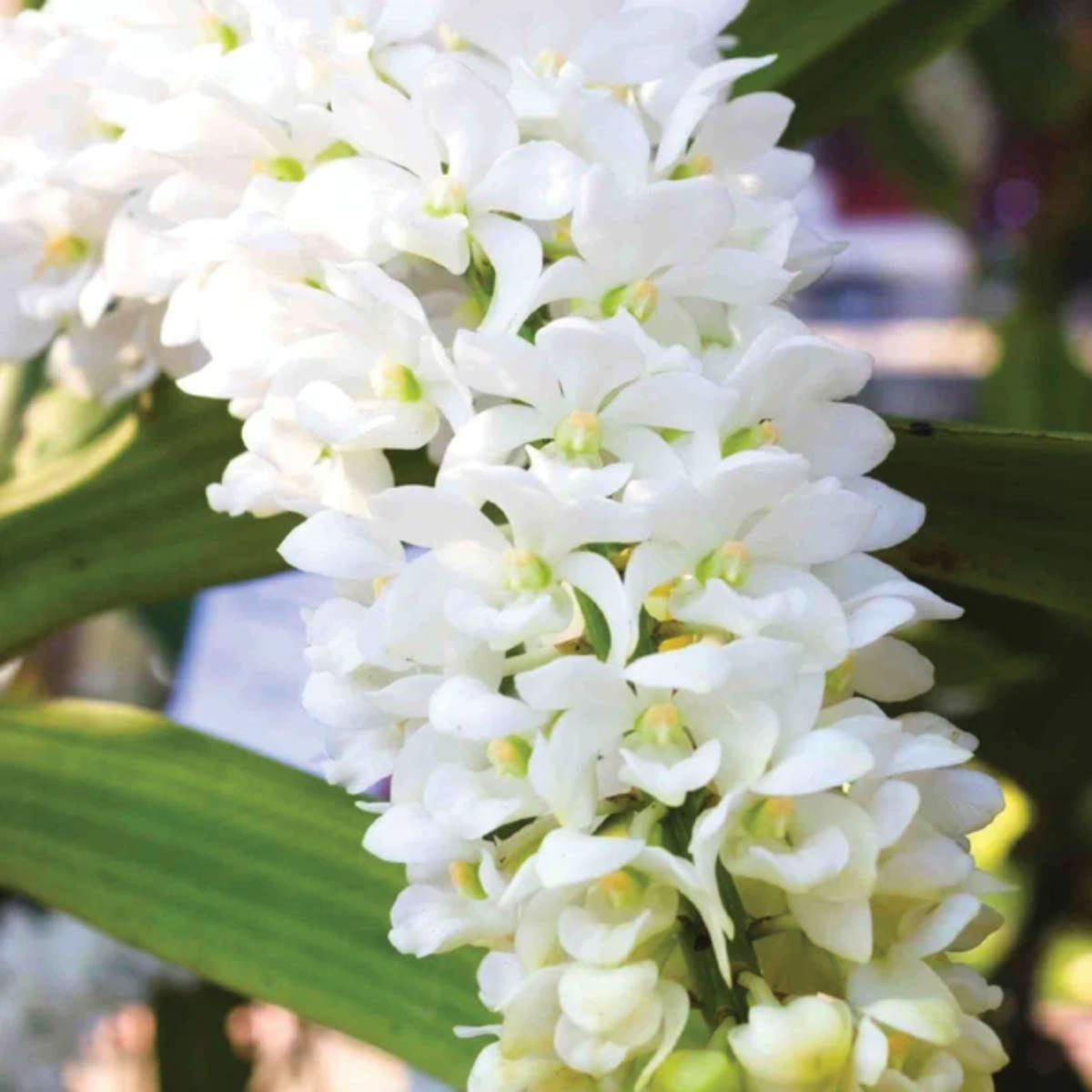 Seedling Size
Rhynchostylis Gigantea White
Available Offers:
Get 10% off (Min. Purchase Rs. 600). On all purchases. Code "IAMBACK10"
Get 15% Off on your First Purchase. Use Code "FIRSTCLICK15"
Get Free Shipping on purchase of Rs. 999 & above. Use Code "FREESHIPPING"
Shop for Rs. 2999/- & Get Flat 15% discount for Repeated Customers. Use Code "COMEBACK15"
Free Shipping above Rs 999

Consult an Expert

Easy Refund Policy
Rhynchostylis is a medium-sized, monopodial, intermediate to hot growing epiphyte carrying very thick, channeled, acute-lobed apical leaves. Dense flower inflorescences, which appear in autumn and winter, have sweetly citrus-scented blooms that last for about two weeks. They need ample bright light and even watering and fertilizer throughout the year. They are native to India and other southeastern countries in semi-deciduous and deciduous dry lowland forests.
Type: Hybrid
Colour: White
Fragrance: Yes
Plant Size: Seedling Size
Plant Stage: Seedling 
Pot Type: Net Pot
Pot Size: 2 inch
Potting Media: Not Required
Growing Conditions: Tropical (Intermediate to warm)
Growing Level: Moderate
Note: Plant will be delivered without flowers / spikes / buds
Water: Water them in the morning when the media is dry. Ensure there is moisture in the media and keep them from drying up.
Light: Ensure a good dose of indirect sunlight. Ideally the early morning light is advisable.
Temperature: Intermediate temperatures are reasonable, but they're pretty flexible about temperature. If temperatures are warm, they will bloom year-round. In climates with a cool winter, they may go dormant.Humidity: Maintain humidity level of 60% - 80%. Regular watering in plants helps maintain the humidity and encourage growth. Good air circulation is a must. 
Fertilizer: Weekly fertilizing required during active growth. In winter months, plants are fertilized twice a month.
Note: Never fertilize an orchid that is completely dry, because this can cause major damage to the roots.
Potting: Before potting, soak the plant's roots in water to make them more pliable. Trim away any dead or rotting roots, place the plant in a larger basket, and allow it to remain dry before watering again. These plants grow from a single large stem and generally have a substantial aerial root structure. As a result, they thrive in loose-net pots or in hanging baskets.
1. Open the box under the shade (cool area).
2. Keep the plant for rest for at least 12 hrs.
3. Clean the plant and wash them with a fungicide solution and keep spraying the fungicides once in a week.
4. After 15 days you can start spraying fertilizer after every 10 days in growing season (summers) and after every 15 days in dormant season (winter).
5. Repotting is preferred to be done in the growing season.
6. Keep checking the growth of new roots which indicates the plants have successfully settled in your location.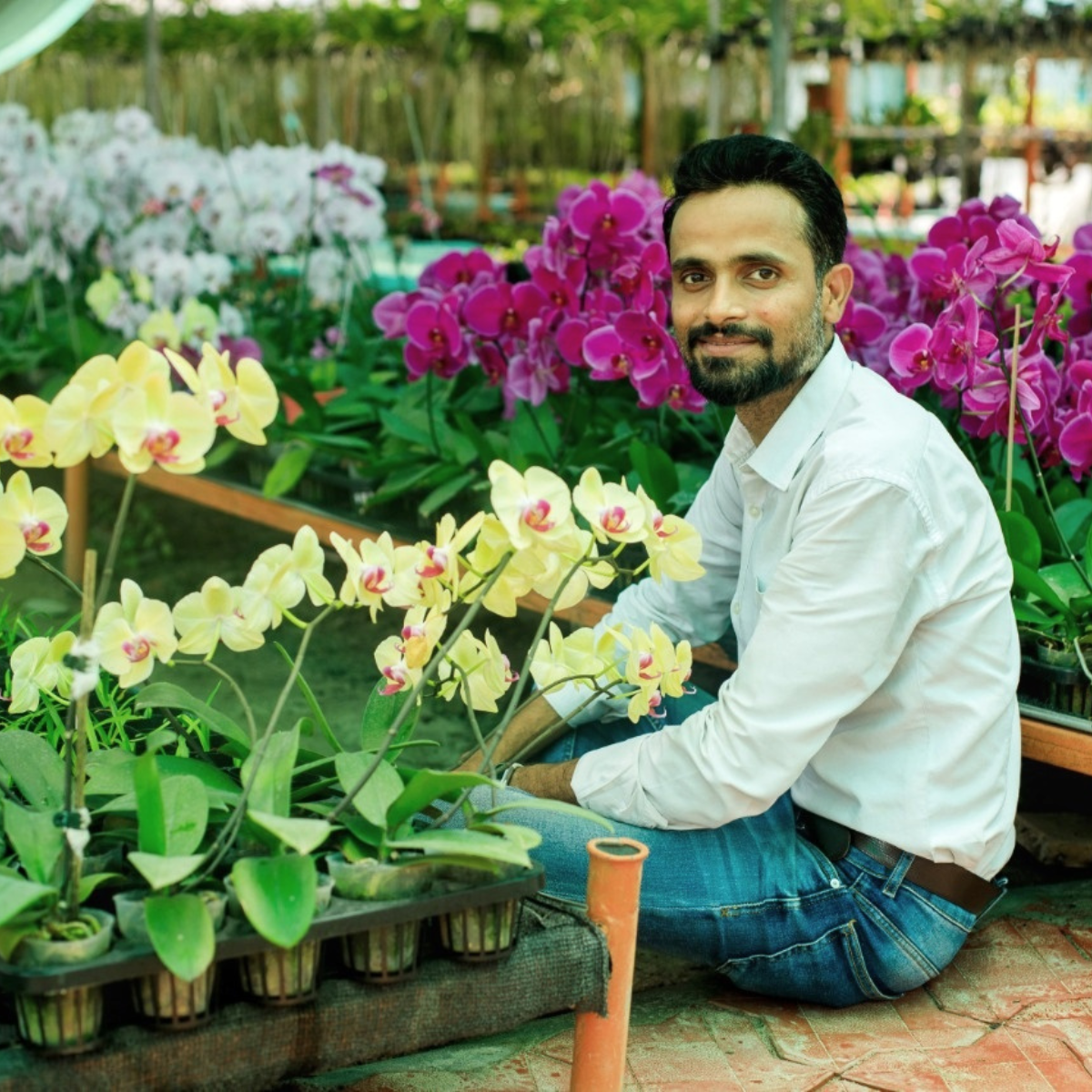 Consult our Orchid experts
Our in-house team of experts will help you with all your doubts and queries about growing Orchids